Pashto Dictionaries Software for PCs Version 1.0
Download Qamosona Software for Windows by clicking on following download button: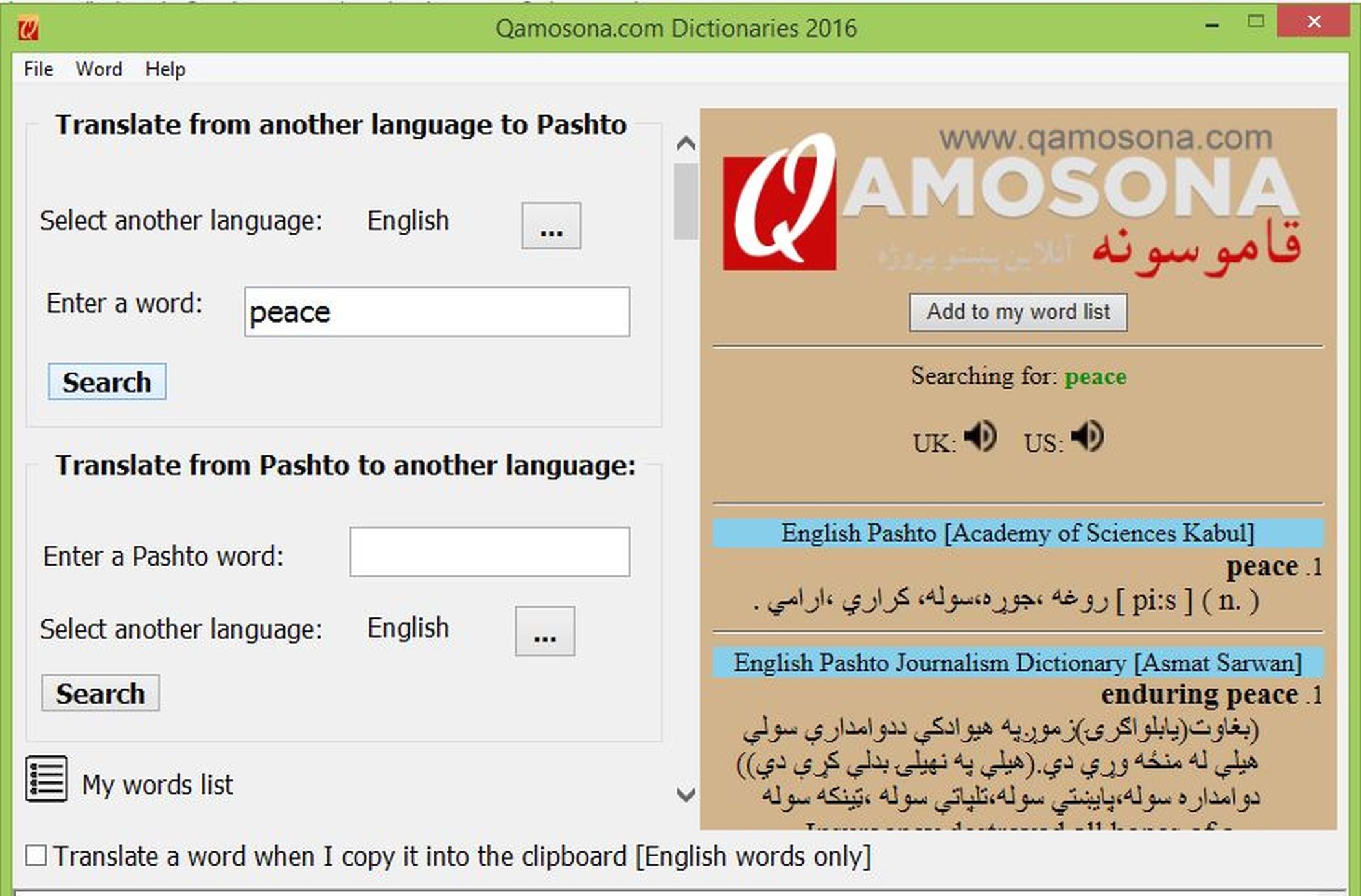 Learn how to use this software through our Video Tutorial:د دغه پروګرام د استعمال طريقه په لاندنۍ ويډيو کي زده کولای سئ
License and disclaimer for our software

Please, read following License and disclaimer information before you download our software.
Note: This software works with Windows 7, Windows 8 and Windows 10. But it doesn't work with windows XP or earlier Windows Version. The Internet is needed to be able to use this software.
!! This software may not be made available on any other web page, place or medium but only on Qamosona.com !!
IMPORTANT!
This Software is free software. It is provided as-is and without any warranty. Qamosona.com and its owner can't be held liable for any kind of damage or loss caused by the use of this software or by the dictionaries and translations this software present.
Dictionaries might contain ERRORS. We can't be held liable for any wrong translation or ERRORS and loss that might be caused by the use of our dictionaries.
Internet connection is required to use this software due to copyright issues.
It is not permitted to save and/or change and/or print any queries or its results from our software / Website on any electronic and nonelectronic device or System. We reserve the right to change this policy any time we decide to. Everyone except those who work for military or any intelligence agency may use our free online dictionary services and this software. No part of Qamosona.com website or translation results of this software may be reproduced or transmitted in any form or by any means, electronic or mechanical, including photocopying, caching and recording, or by any information storage and retrieval system, without the prior written permission of Qamoson.com owned by Ahmad Wali Achakzai.
(c) 2016 Qamosona.com Version 1.0